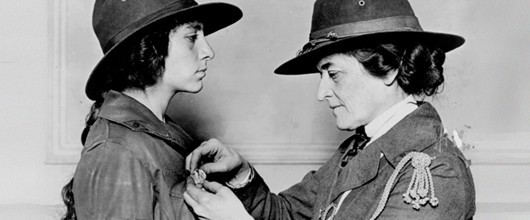 Gold Award Girl Scouts
Since 1916, Girl Scouts have been making meaningful, sustainable change in their communities and around the world. The Girl Scout Gold Award, the highest honor a Girl Scout can earn, acknowledges the power behind each recipient's dedication to not only empowering and bettering herself, but also to making the world a better place for others.
Here are this year's Gold Award Girl Scouts...
 

Rachel Bergmann
Merrill, WI

Creating Sani-Pantie to help girls in Africa stay in school
 

Samantha Daniels
Athens, WI

Created a cemetery map for Athens Cemetery.
 

Sydnie Dumas
Sault Sainte Marie, MI

Wrote a children's book and curriculum about bullying
Katelyn Gauerke
Marshfield, WI

Created music binders for her high school pep band.
 

Claire Henneman
Bloomer, WI

Made yard games for Arrowhead Bible Camp
 

Alexandria Holec
Eau Claire, WI

Developed a catalog of music for Azura Memory Care
 

Alexis Johnson
Appleton, WI

Created a Curriculum for elementary students about service projects
 

Kensa Koeppen
Oshkosh, WI

Education for middle schoolers about human trafficking
 

Hannah Lindquist
Cornell, WI

Installed a sidewalk at the Cornell Visitor's Center
 

Laura Lyons
Laurium, MI

Website and presentation about IBS and stomach issues
 

Nyssa Schneider
Menasha, WI

Built a gaga pit at Camp Rokilio
 

Haley Worden
Sault Sainte Marie, MI

Library curriculum about preparing healthy meals