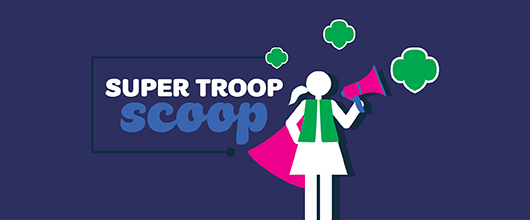 Super Troop
Super Troops keep it simple. Feel confident that you are offering an action-packed Girl Scout troop experience – and making great memories – when you include the nine elements of a Super Troop in your year plan. Do you like rewards? Super Troop is a patch program, so your girls earn a free patch when troop leaders complete our survey by July 31. Oh, and we love your stories and pictures - share those too!
Here are the nine elements of a Super Troop year! Meet up in-person or adapt to virtual engagement.
One parent meeting or one family event
One field trip into the community, out of the troop meeting room
One cookie kick-off event and participation in cookie sales
One outdoor outing
One STEM activity
One overnight (Brownies and up)
Dear Daisy
Dear Daisy is a place for you to ask all your burning questions about how to be a Super Troop leader. We'll answer you and then put information right here - to help other Super Troops. Ask a question now!