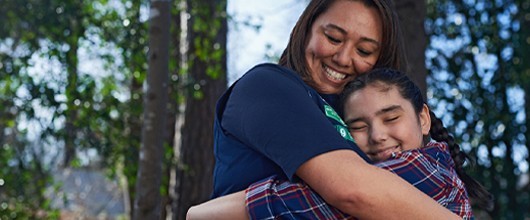 Girls & Families Resources
You probably already know that Girl Scouts can help your girl be happier, healthier, more successful in school, and more satisfied with her life. But it's not just your girl who benefits when you join—Girl Scouts makes family life better by:
Reinforcing the values you're teaching at home
Offering fun and meaningful bonding experiences you'll cherish forever
Deepening your family's connection to the community
Supporting you and yours with tailor-made family resources and advice on navigating today's complex world

---
Girl Scouts of the Northwestern Great Lakes values inclusivity and diversity and we stand firmly and strongly against racism in any form. Our black and brown communities are expressing deep pain brought to a head by the sickening death of George Floyd at the hands of the Minneapolis Police. We commit to listening unflinchingly with an open heart and learning. This expression widely shared by white communities on social media resonates, "I understand that I will never fully understand, yet I choose to stand."
Using Girl Scouts to Navigate Tough Times - LEARN MORE >>>
---
 Get the most out of Girl Scouting.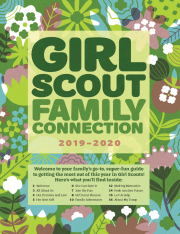 Family Welcome Packet (PDF)
Additional Resources
Raising Awesome Girls
Girl Scout Cookies
Essentials Guide - purchase everything you need to Girl Scout.
---

 Let's get Specific!
There are tons of great resources for parents on our website. Here are some of them...
Cookies | Girl Scout Activities | Shop | Locations
---

 The Volunteer Toolkit is for Parents!
The Volunteer Toolkit is a digital planning tool that gives volunteers resources and program content to get the year started—and keep it going smoothly! Fully customizable, the toolkit is digitally responsive so volunteers can plan and prepare practically anywhere.
Girls have more fun when they can shape their own experience, do hands-on activities, and work together as teams. With the new toolkit, girls, leaders, and families can explore meeting topics and program activities together, and follow the fun as they plan their Girl Scout year.
VTK Guide - Troop Member's Caregivers    
VTK Guide - Individual Girl Member's Caregivers
Check Out These Awesome Training Videos
For Caregivers to Individually Registered Girl Scouts - The Year Plan Tab
For Caregivers to Individually Registered Girl Scouts - The Explore Tab
For Caregivers to Individually Registered Girl Scouts - Meeting Plan Overview
---
 Have Questions?
Don't worry we have a dedicated team of question answerers ready to help you!