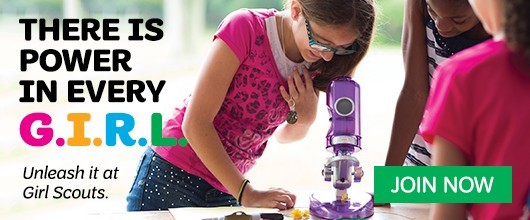 Join
When you unleash your inner G.I.R.L., you can accomplish anything!
At Girl Scouts, the next opportunity to stand up, speak up, and take the lead is never far away. With us, you'll discover the G.I.R.L. (Go-getter, Innovator, Risk-Taker, Leader)™ in you, and watch her shine, again and again.
Will you find a sustainable solution to a problem in your community? Will you explore the great outdoors? Build a robot? Learn to code? Conduct an experiment?
With us, the possibilities are truly endless. Discover all you can be and everything you can accomplish when you have the right tools and a safe space to shine—and work together to change the world. 
So what are you waiting for?
 
Need to know more so you can decide what's right for you? Check out all the different ways to take the lead at Girl Scouts. Or, see all the exciting possibilities Girl Scouts offers for girls of all ages and choose your adventure.
Join Girl Scouts - Virtually!
Not a Girl Scout Yet? Virtual joining and information opportunities
Just for Parents - Get to Know Girl Scouts Q&A
You probably have a lot of questions about all Girl Scouts has to offer! Join us for a parent info session and hear all the important details. Attendees will be entered into a drawing for a free case of Girl Scout cookies! 
June 9, 2020 | 6 PM Central | Sign up! >>>
June 17, 2020 | 12:30 PM Central | Sign up! >>>
June 24, 2020 | 6 PM Central | Sign up! >>>
July 9, 2020 | 4 PM Central | Sign up! >>>
July 22, 2020| 6 PM Central | Sign up! >>>
New Friends Pack
Girls love getting mail! Sign up here to receive more information about Girl Scouts, and your daughter will receive a special packet with seeds to plant, stickers, and a special Girl Scout activity sent to her by mail.
This special offer is just for K-5 girls within GSNWGL geographic area who are not yet registered Girl Scout members.