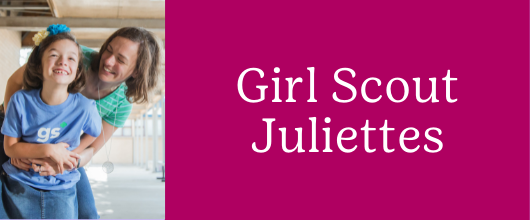 Juliette Girl Scouts are registered girl members in grades K-12 who are busy, independent, self-confident girls and want to be a part of something larger- Girl Scouts! Meeting in troops is one way to be a part of Girl Scouts, but when troops aren't available or a girl becomes too busy with extracurricular activities, becoming a Juliette will allow her to be a part of the Girl Scout experience on an individual basis.
What can a Juliette do?
Juliettes can do anything Girl Scouts in a troop would do! She'll gain the same great skills and benefits as all other girl members.
Looking for more exciting opportunities? Check out the list for even more ways to get involved!

eTroop: Free virtual meetings twice per month at each grade level. Join all of the sessions for a well-rounded troop experience or just join the ones that interest your girl the most.
Virtual Events: Virtual, interactive, badge-earning events with our expert Program Partners.
Virtual Journeys: Virtual, interactive, journey-earning events with our expert Program Partners and staff.
On Your Own Program Partners: Local and virtual Program Partners eager to help your Girl Scout try new things.
Girl Scouts at Home: Girl Scouts of the USA roundup of national virtual events, activity videos, and more! 
---
How to Join

Get your girl started! On our Join page, select Find A Troop. Enter your zip code, and advance to the next screen. Select Apply to Participate without a Troop and enter your Girl Scout's contact information.
Caregivers will gain access to the Volunteer Toolkit, an online digital planning tool for earning badges and Journeys. Adult membership for Juliette Mentors is encouraged but not required. Join us in the Girl Scout Movement as we work together to build girls of courage, confidence, and character who make the world a better place!
---
Juliette Mentors
What is a Juliette Mentor?
Similar to a troop leader, a Juliette Mentor organizes Girl Scout activities for a girl. Juliette Mentors meet regularly with the girl to discuss, plan, and do activities together. Together, they enjoy discovering new places, connecting with the community, and taking action on the things a Girl Scout cares about.
Who can be a Juliette Mentor?
Juliette Mentors can be the girl's parent or another caring adult like an aunt, grandparent, or close family friend. This role has access to helpful online tools to guide your Girl Scout plans, plus training and coaching is available! Additional screening is required to assist a girl with Fall Product sales or our world-famous Cookie Program.
Resources to help Juliette Mentors get started.
Council Troop Resources Pssst! If you find something you like on our website, use it! Resources for troop leaders can be used by Juliette Mentors and caregivers, too!